Fully integrated end to end solutions
Greenhouse gas
abatement
Biogas from landfill systems tailored to achieve best practice environmental management outcomes and maximised carbon abatement. Over half of our sites create carbon credits.
Biogas extraction
infrastructure
& management
We design, install, operate, maintain and monitor biogas extraction from landfill systems which can be complemented by our biogas to renewable energy power stations.
Renewable
energy
We convert biogas extracted from landfills into renewable energy and across 8 sites currently produce over 85,000 MWh annually. We use GE Jenbacher gas engines as our preferred power generation equipment due to high efficiency and engine durability.
Firming
renewables
Being passionate about achieving a zero carbon future, our team is focused on expediting the world's transition to renewables by incorporating synergistic technologies to enhance the capability of renewables to provide reliable, affordable and responsive energy to customers.
How we beneficially use biogas.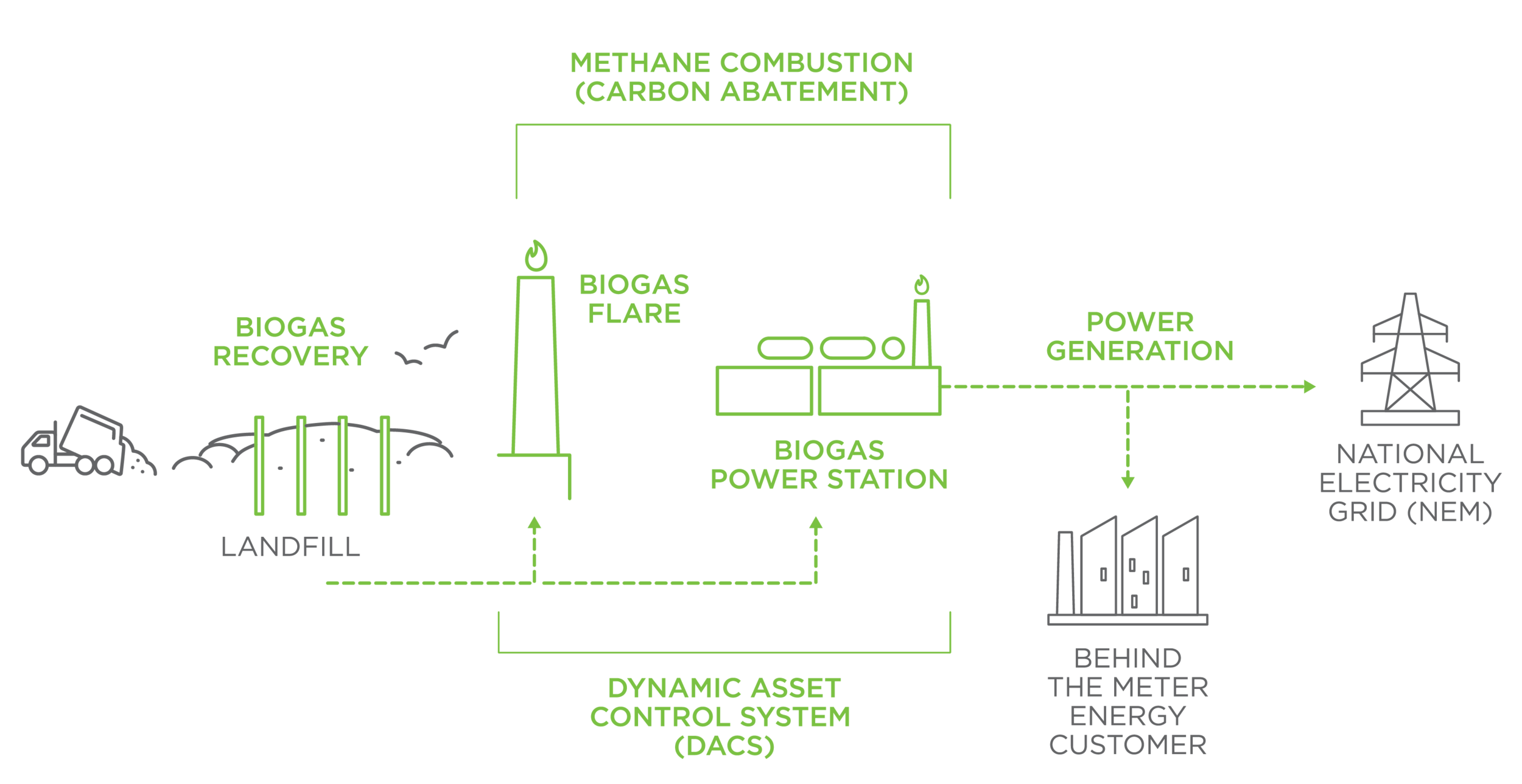 We provide holistic carbon and renewable energy solutions - a "one stop shop".
We are a renewable energy and carbon abatement company which specialises on the capture and beneficial use of biogas from landfills and offers a full suite of services.
Our customers can choose to benefit from all or a selection of the extensive offerings which, include design, construction, operation, maintenance and monitoring of biogas extraction from landfill systems.
We drill wells and manufacture Type B compliant flares. We also build, own and operate biogas to renewable power stations on the landfills of our customers.
LGI is developing renewable hybrids on a number of our key renewable energy sites by incorporating a range of complementary technologies, including batteries, synergistic solar and green gas (bio-methane).
Carbon Expertise
The LGI team abates carbon and creates Australian Carbon Credit Units (ACCUs) through the capture and combustion of biogas to help customers achieve regulatory compliant, environmentally and commercially optimal outcomes.
We have established sophisticated Australian Carbon Credit Units (ACCU) trading systems with our deep understanding of carbon markets in Australia and internationally.
LGI has recognised expertise in ACCUs. We create and acquire over 300,000 ACCUs annually.
LGI's carbon expertise is led from the top by Executive Director and Co-Chief Executive Officer, Dr Jessica North. With more than 20 years waste industry experience in management, consulting and research, Jessica has extensive Australian and international work experience from both developed and developing countries.
Our Benaraby project in Gladstone was the first new biogas from landfill project registered under the Carbon Farming Initiative (CFI) in 2013.
We really enjoy what we do.
This error message is only visible to WordPress admins
Error: Access Token is not valid or has expired. Feed will not update.